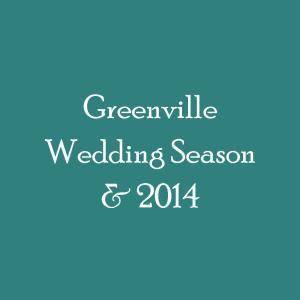 When I first started coordinating, wedding season, for me, was May & June and then October. Those are prime times in Greenville. Those are months when it's best to make your vendor decisions far in advance, especially for photographers, officiants, and other vendors who can only do one wedding a day (maybe two for officiants depending on the ceremony times).
Nowadays, wedding season, for me, is pretty much all year (May, June, and October are just really busy). I'll end up with small gaps in the winter when it is a less popular time to schedule a wedding (but I LOVE a January wedding, hello, Avett Brothers), and then I'll have some gaps in the summer when it's traditionally a bit hotter (but any summer weddings is still lovely, especially inside).
With all of that being said, February is an entire month off for me this year. It's the only month this year when I don't have a wedding or event, and I'm fully enjoying some downtime/recharge time on the weekends.
It's also now the time that follows Christmas, New Years, and Valentine's Day. Prime engagement time! So, I have been meeting lots of new brides!
Since I hadn't stopped yet to look back on 2014, I thought now would be a great time to reflect and to let everyone know what I was doing all of last year.
In 2014, I coordinated 29 weddings. All of those were in the Upstate, but I also traveled down to Folly Beach to help with my best friend from high school's big day (my first on-the-beach wedding!). [Read more…]