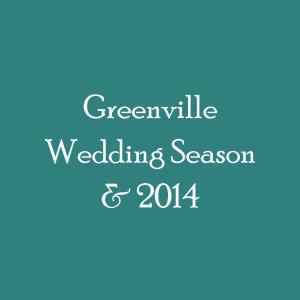 When I first started coordinating, wedding season, for me, was May & June and then October. Those are prime times in Greenville. Those are months when it's best to make your vendor decisions far in advance, especially for photographers, officiants, and other vendors who can only do one wedding a day (maybe two for officiants depending on the ceremony times).
Nowadays, wedding season, for me, is pretty much all year (May, June, and October are just really busy). I'll end up with small gaps in the winter when it is a less popular time to schedule a wedding (but I LOVE a January wedding, hello, Avett Brothers), and then I'll have some gaps in the summer when it's traditionally a bit hotter (but any summer weddings is still lovely, especially inside).
With all of that being said, February is an entire month off for me this year. It's the only month this year when I don't have a wedding or event, and I'm fully enjoying some downtime/recharge time on the weekends.
It's also now the time that follows Christmas, New Years, and Valentine's Day. Prime engagement time! So, I have been meeting lots of new brides!
Since I hadn't stopped yet to look back on 2014, I thought now would be a great time to reflect and to let everyone know what I was doing all of last year.
In 2014, I coordinated 29 weddings. All of those were in the Upstate, but I also traveled down to Folly Beach to help with my best friend from high school's big day (my first on-the-beach wedding!).
I coordinated ceremonies at The Old Cigar Warehouse, Holy Trinity Anglican Church, Pretty Place, The Cliffs Glassy Chapel, the Rock Quarry Garden in Cleveland Park, the Cherrydale Alumni House front lawn, Duncan Estate, Certus Loft, August Road Baptist Church, and in the amphitheater in front of the TD Stage.
Receptions that I coordinated were at Larkin's Cabaret Room, the Wyche Pavilion, the Cliffs Glassy Clubhouse, Duncan Estate, Cherrydale Alumni House, the Hartness Pavilion at Furman, the Certus Loft, Larkin's Sawmill, and The Old Cigar Warehouse.
(I always let my couples know that I am certainly comfortable with learning a new venue, but it's nice going back to the ones you know, too! I'll be headed to several new ceremony locations and a couple of new reception venues this year.)
Last year, I believe the most walking I did in one wedding day was about 10 miles. You definitely feel that one that next day!
My best story was when I chased a squirrel out of the sanctuary of the Augusta Road Baptist Church when I was the only one there before the ceremony. I'm pretty sure that's one of those days when I "walked" 10 miles.

My favorite favor is still the handmade candles that one groom's mother created. Luckily, I was given two at the end of the night, and I still have one lovely peppermint eucalyptus one left. Doughnuts are my next favorite favor.
I worked with a long list of incredible wedding vendors over the course of the year, so I can certainly share my recommendations with couples.
We celebrated reception send offs with sparklers, glo sticks, bubbles, ribbon wands, and even paper airplanes in 2014. My couples jumped into horse drawn carriages, golf carts, rented cars, limos, borrowed vintage cars, and sometimes they just took a stroll to the hotel (or the after party).
Last year was pretty awesome and definitely kept me busy! I'm already one wedding into 2015, and I'm looking forward to the next one in March. Excited for another year of weddings!
Happy Wedding Planning,