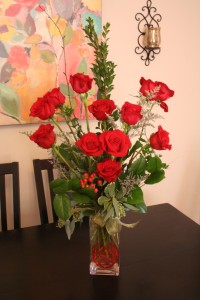 This year, Jon and I celebrated Valentine's in a pretty typical way, with roses and a dinner out. This beautiful Valentine's arrangement came from Dahlia, which just happens to be at the end of our street. They always do awesome arrangements (including incredible wedding flowers, too!).
We also went to The Lazy Goat, which is always a good idea. I didn't bother to take any pics then because it would have looked pretty much like this. I love fried goat cheese almost as much as I love Jon.

Since I know that there were definitely some ladies who received some new engagement bling for Valentine's, I'll be hopping back into wedding writing starting this weekend!
One other thing to look out for will be my posts featuring specific wedding vendors in the area. They'll give you their best wedding advice for their area of expertise in the industry. The first post up will feature Justin at Uptown Entertainment. There's definitely more to consider when hiring your wedding DJ than most people realize!
I'll leave you with some more Dahlia photos. If you look closely you can even see the signature dew drop that they put on all of their arrangements.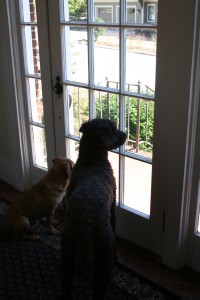 Oh, and of course I have show you a picture of the pups. Calhoun and Frank were taking advantage of the fact that I opened the front door for more natural lighting while photographing my Valentine's flowers, and they snuck into the foyer to check out what was going on in the neighborhood.
Check back soon for more wedding posts, and have a great weekend!
Happy (one day after) Valentine's!