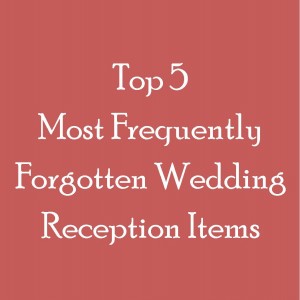 We all know that there are so many things that go into planning and pulling off a wedding reception.
You have your caterer, your florist, your cake, a place for the gifts to go, your seating chart/seating cards/sign letting people know they can sit wherever, a place for the guest book…and many other little things that you didn't realize you were going to have to think about when you starting the whole planning process.
Throughout my time as a day of wedding coordinator, I've started to notice a trend of the top things that are mostly likely to be overlooked when planning a reception.
For the weddings that I help with, I've started mentioning these items specifically in my workbook that all of my brides complete. Also, if the item is small enough, I've just started keeping a back up in my emergency kit that I carry with me to every wedding.
These are all things that you can kind of wing, maybe, but it certainly isn't ideal at all. Don't be the bride that has to pick one of these up at the last minute. Check out the list below, and plan ahead!
Top 5 Most Frequently Forgotten Wedding Reception Items [Read more…]