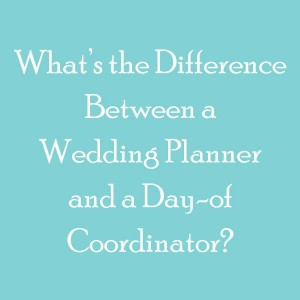 When you begin planning your wedding, you'll start looking for vendors, checking out Pinterest for ideas, and making mental notes about all of the things you want to make sure are perfect on your wedding day.
Mostly likely, with all of those beautiful ideas and detailed check lists, you will soon come to the realization that you will not be able to do it all on your own. Even though you could plan everything to be just the way that you always imagined, in order for you to be able to enjoy and be fully present for your wedding, you're going to need a little help.
That help could come in the form of an incredible friend (preferably not a part of your wedding party, they'll be a bit tied up), but sometimes you'll seek assistance from a wedding professional.
In this post I'll go over what the differences are between a wedding planner, a day of coordinator, a wedding director, a venue coordinator, and an event designer. This will help you determine who you will need to seek out for your wedding team based on what you need as a bride.
What does a Wedding Planner do?
I'll start with the most inclusive position first.Wedding planners are going to be the go-to wedding professional for brides that want help with all aspects of wedding planning.
Depending on the service level that you desire (and pay for), a wedding planner can take care of everything from contracts to invitations to seating charts to your sparkler send off. If you want to have someone there throughout the planning process and with you for vendor meetings, a wedding planner is the wedding professional that you will need to hire.
They can also be available to handle the rehearsal, setup for the ceremony and reception, and coordinate all of the day-of activities. A wedding planner will have multiple meetings with their client.
In the Greenville, SC area, wedding planner packages start at around $1000-2000 for an entry-level planning package and go up from there.
What does a Day of Wedding Coordinator do?
A day of wedding coordinator, much like a wedding planner, will work to ensure that everything goes as planned for your rehearsal and your wedding day. The main difference is that you will be the one that handled the planning of everything.
A day of wedding coordinator is the ideal wedding professional for a bride who wants to take care of all of the details: booking and meeting with the venue and vendors, planning/purchasing/renting the decor, handling invitations and RSVPs, and prepping all of the wedding information to hand over to the coordinator.
Once the planning is complete and the information is handed over, then you can enjoy your wedding day knowing that someone else will be worrying about making sure everyone and everything is in place.
Day of coordination is also a great alternative for a bride who perhaps does not have the budget for a wedding planner but knows that she will need someone to make sure everything goes smoothly.
One important thing to mention about day of wedding coordination is that there will need to be prep time ahead of the wedding date. A day of wedding coordinator should plan to meet with you at least once (preferably at the venue) in order to make sure they have all of the details that they will need.
In the Greenville, SC area, day of wedding coordination packages start at around $500 and go up from there.
What does a Wedding Director do?
If you choose to forgo a wedding planner and a day of wedding coordinator but still need assistance making sure that your wedding ceremony is exactly what you had in mind, a wedding director will be the person that you will want to hire.
A wedding director will focus just on the ceremony aspect of your wedding day. They will be onsite for both the rehearsal and the ceremony. The director will handle making sure that everyone is lined up properly and knows where to go and what to do.
Your church/house of worship may provide this person. Compensation will vary by location and situation.
What does a Venue Coordinator do?
Many wedding venue locations will provide a venue coordinator. This person may also be called the venue manager.
The venue coordinator's duties focus on the venue itself. Most likely, they will be responsible for the setup of the venue, rentals provided by the venue (or rental orders coordinated by them), facilities details (lighting, in-house sound systems, heating & air, bathrooms), and cleanup.
Some venues will allow their venue coordinators to display decor provided by you, but there may be an additional charge. Venue coordinators do not, however, typically have any involvement in getting your ceremony in order or directing the activities during the reception.
Venue coordinators are usually included in the venue rental fee. Please make sure that you understand what that person is and isn't responsible for at your specific venue, and make sure you have someone on hand to handle everything that falls outside of the realm of their responsibility.
What does an Event Designer do?
Another wedding professional that you could potentially hire for your wedding would be an event designer. Event designers are typically incredibly creative people who will work to bring to life the vision you have for your wedding.
They will work with you to create a design for your wedding decor, order the rentals and purchase other items needed to complete the design, and they will be the person responsible for setting up and breaking down the decor.
Your event designer will typically not be present for the wedding ceremony or reception. Instead they will set up according to the timeline you or your planner/coordinator provides and then return once your guests have left.
Fees for an event designer vary greatly depending on both the level of service provided and the complexity of the wedding setup.
Review
Now that you know what each type of wedding professional offers, you can determine what level of service you will need on your wedding day.
No matter what type of wedding professional(s) you decide to work with on you wedding day, make sure that you are comfortable with the way that they communicate with you. Communication will be such an important part of both the planning process and your wedding day, it's a really good deciding factor to lean on when making your decisions.
Happy Wedding Planning!