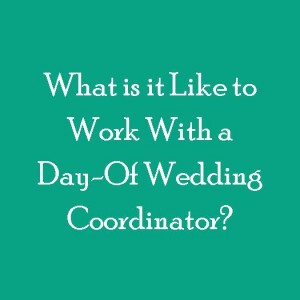 One of the first questions I tend to get from potential clients is, "What exactly do you offer?" Since it comes up so often, I've decided that I'd also write a post about it.
Instead of just listing out what's included in my day-of wedding coordination service, which is great for contract purposes but doesn't provide the amount of explanation that some people would like, I've decided that I would write about what typically happens through the process of working with a couple.
Of course, I can only speak for what I do. Below is what has come to work really well for me and my clients, but all day-of coordinators probably approach things a bit differently. This should give you a good idea of what to expect though!
Booking
As of right now, pretty much all of my work comes through referrals since I don't have a need to market heavily. Typically potential clients learn about me through a friend or another wedding vendor.
If someone is considering booking me as their day-of coordinator, we'll first communicate via email or phone. Usually it's a phone call. I'll go over what I offer with my coordination package, answer any questions that they have, provide references if needed or let them know where they can find reviews for Love This Little City. I can also schedule a brief meeting with them if they want, but it usually isn't requested (I think that's because of the fact that they are referrals). Once they decide that they would be interested in having me coordinate their wedding, I email a contract to them to review and schedule the Initial Meeting.
Initial Meeting
Since I do have a full-time job, I typically like to schedule my initial meetings for the evenings after 5PM or anytime on the weekend when I don't have other wedding responsibilities. My job is really great and flexible, but I try to keep my initial meetings after hours.
I always joke that Panera Bread is my official office, but, it pretty much is. I think that it is the best place for me to meet up with clients for the first time. There are several of them in the area (I'll always go to the one closest to the client), there's always plenty of room, and Panera is just awesome.
At the meeting, if I'm booking the client on my own, I'll first go over any questions with the contract and then they can sign it and handle the deposit. I get so caught up in discussing the wedding details during this meeting, I can forget the business part of things! That's why I always take care of it first.
During this meeting I discuss with the couple (or the bride and her mother, the bride and her friends, or whatever combination works best for them) what they have planned so far for the wedding and what they will still need to make decisions about. I take notes during this conversation so that I have them to reference while they work on the wedding worksheet (that I provide an electronic copy of). I also talk through a printed copy of the wedding worksheet (which is about 8 pages now, but asks all the questions I would need to answers to). During that time, if they still need to book certain vendors, I could provide them with my recommendations. I also discuss the flow for the wedding day and sketch out an initial timeline.
Ongoing Support
After the Initial Meeting, I work to type up the timeline for the wedding day, adding in final information for the wedding day as the date gets closer. The couple works through the wedding workbook, which I review periodically and then provide advice. I am also always available to answer wedding planning questions that come up via email and phone.
I share an individual Dropbox folder with each of my clients. This is a place where they can upload all of their wedding contracts so that I can review them and print the most up-to-date copies to have on hand for the wedding day. This is done with a simple email invite that I send through Dropbox. They just click on the link, it lets them create a login (if they aren't already a Dropbox user), and then they can drag and drop files into the folder.
Site Survey
About 2 months-6 weeks out from the wedding date, I work with the client to schedule a time for the Site Survey. We coordinate with the venue, because it's really important to host this meeting in the space so that everything can be squared away. I usually schedule this meeting in the late afternoon, but it can also be done first thing in the morning if the venue is available.
During the site survey (approx. one month out from the wedding date) we meet at the wedding venue to walk through exactly where all of the tables will go, where decor items will be and how the ceremony/reception will flow. Depending on which vendors the client chooses, they might attend the site survey as well (sometimes they are so comfortable with the venue that I just need to confirm the details via email).
Vendor Check In
At the very beginning of the wedding week, after the timeline has been finalized, I check in with all of the couple's vendors via email (or phone if needed) to confirm their arrival times and answer any questions that they have. They also receive an emailed copy of the timeline from me.
Rehearsal
Unless there is already someone at the venue or church that would handle directing the ceremony, I direct the rehearsal. I am always incredibly flexible regarding the Rehearsal time. The only time that I ever have had to restrict my availability for the Rehearsal is when I have booked a Sunday wedding when I also have a Saturday wedding on the same weekend (and the client would always know about this before booking me for that date).
The Rehearsal can be done with or without the officiant/minister, but it's always easier on everyone to have them there.
At this point I also go through any last minute questions and review (and possibly pack into my car) the items I will be setting up the next day.
Wedding Day
On the day of the wedding, I am on site to check in with the vendors as they arrive and give them a printed copy of the timeline with any additional notes that I've added for them. I place any small decor items (gift card box, guest book, items for the cake table, etc.).
I am there when the couple and wedding party arrives to attend to any last minute needs (I have my wedding day emergency kit handy, too!). I am also accustomed to being on "groom watch" to make sure he doesn't see the bride or helping to coordinate the first look for the photographer.
If the ceremony and reception are in different locations, I'll plan my time accordingly for each space.
As the ceremony time gets closer, I supervise as the guests enter the ceremony space and confirm that they are all inside before starting (no stragglers in the parking lot, always happens!). I then line up the wedding party and send them in based on the timing that I have discussed with the couple (while providing transition cues to the DJ or musician).
Following the ceremony, my focus shifts to expediting any after-ceremony photography, while checking in on the reception (if they are in different locations, I decide ahead of time which will need my attention more during that transition).
After the introduction of the wedding party, I then follow the timeline (or adjust it as needed) for the rest of the evening's activities (dances, tosses, send off). My couples don't have to worry about anything at that point. I make sure the right people know when we're about to do toasts, and I go and grab the toss bouquet when it's needed. I also do my best to ensure that the couple is neither hungry nor thirsty, which takes more work than you would think since they're so popular that night!
At the end of the night, I always make sure all of the gifts are packed into the right car and that the personal decor items go home with the appropriate person.
Then I sit down for the first time in many hours and maybe take a bathroom break.
Wrapping It Up
Whew! Another long wedding post, but I didn't want to leave anything out! That is a pretty good summary of what I do for each of the weddings that I coordinate. Things are guaranteed to be slightly different at each one, but I always adapt and do my very best to make sure that the wedding day is exactly what the couple had in mind (if not better).
You can plan your wedding day, but it's really hard to direct it while you're enjoying it. That's where I come in, and that's what I do. If you have any questions, please let me know!
Happy Wedding Planning!