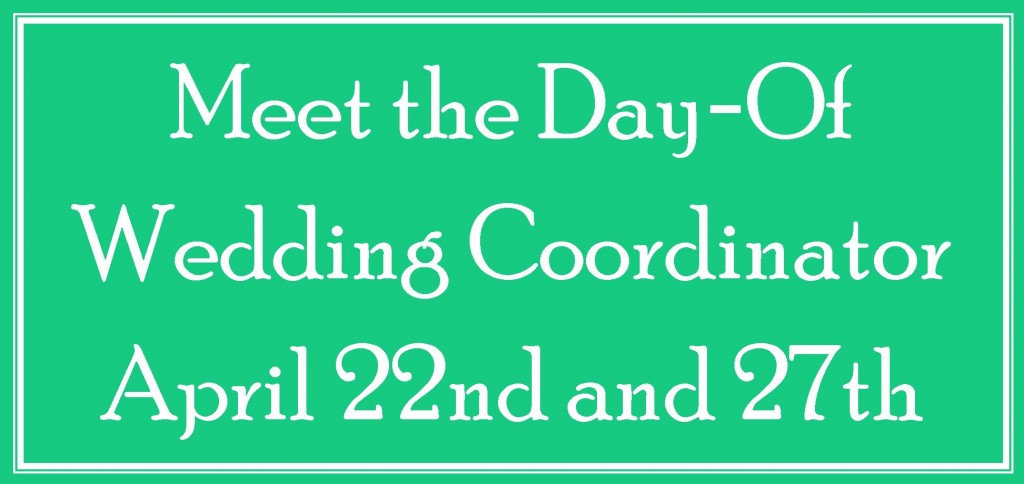 Are you planning your wedding in Greenville, SC and thinking about using a Day-Of Wedding Coordinator? Not sure if it's what you need or want to learn a little more about the services offered? Maybe you just want to meet and chat with the person who could potentially become a major part of your wedding team?
I completely understand where you are coming from! That's why I've decided start scheduling introductory meeting times each month so that I can set aside a time to meet with couples (or brides, brides and their mothers, brides and their friends) who haven't booked me yet but just want to meet me and see what this day-of coordination stuff is all about.
Of course, I will always make special arrangements to meet with you if you're interested in my services and these times don't work for your schedule, but this way there's a set time when we can meet face to face, no commitment or complicated scheduling required.
I'll tell you all about what I do for couples on their wedding day, and you can tell me a little bit about what you have planned, if you like. You'll probably leave with a few free tidbits of wedding advice, because it's typically impossible for me to not pass some along, and you'll know more about me and my services.
My first Introductory Meeting Days are:
Tuesday, April 22nd – 6:30PM, 7:00PM, 7:30PM
Sunday, April 27th – 2:00PM, 2:30PM, 3:00PM, 3:30PM
When you contact me to let me know that you would be interested in one of these times, I'll ask you for your name, wedding date, wedding location (if it is known), and contact information (phone and email, just for scheduling purposes). At that time, I'll also let you know where we will be meeting. All of my meetings take place in easy, public locations like a Panera Bread or Starbucks near downtown Greenville (since wedding coordinators don't actually have a need for an office outside of their home, and I like coffee…).
Easy peasy! In the meantime, if you'd like to read more about what it's like to work with a coordinator you can check out this post. You can also view the outline of my day-of coordination package here. If you have any questions or need any other information, of course, you can always reach out to me!
Happy Wedding Planning,