I am a firm believer that when a bride is planning a wedding that she should work hard to make sure that she doesn't focus too much energy on the wedding itself. Instead, she should try to remember to focus on the relationship that is the reason for the wedding and the basis for her future marriage.
In the spirit of encouraging my brides to do something fun with their fiance and keep the wedding planning stress down, I'd like to tell you a little bit about the Supper Club that my friends and I started last year. It's a fun way for us to get together and relax with friends, and they're really good dinners!
How Our Supper Club Works
Our Supper Club consists of three couples, with other friends joining us for some of the evenings. We rotate houses each month and take off some time for the holidays and summer, when scheduling would be too difficult. The hosting couple takes care of everything (but the others typically show up with wine or other theme-appropriate beverages).
Past Supper Club Themes
Last fall we had an absolute blast with the Supper Club dinners. I started things off with a French-inspired meal, and I learned how to make creme brulee for it! The next couple did a southern themed evening, complete with collard greens and homemade apple pie. The third dinner was a German meal of goulash and spaetzle. Then, everything was wrapped up in November with a Spanish-inspired meal with a grand finale of coffee-infused flan (so good!).
This Year's Kick-Off
I thought that it was really interesting that it was actually one of the guys who asked if we were going to keep things going this year! Well, of course we are!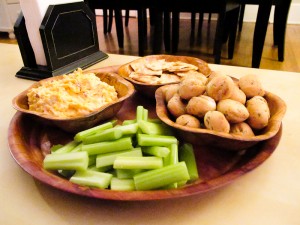 Jon and I hosted dinner this past Sunday. The inspiration came from all of the horribly cold weather we've been having in Greenville lately. I decided to do a Southern Summer themed dinner using our traditional Folly Beach vacation meals and snacks as the basis for the dinner.
For the appetizers, I went with some really simple items. I did Palmetto Cheese with crackers and celery (because there's no reason to make your own, when this one will always be better), seasoned oyster crackers (using the OTC artisan-style ones), and boiled peanuts (which were made and kept in the slow cooker). I was super happy about how well they turned out. I went for the 6 hours on high and then 5 hours on low, with 1/4 cup of salt, perfect!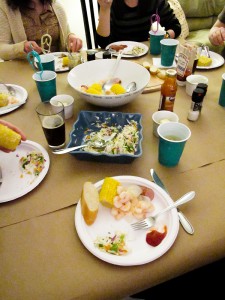 Dinner was served family-style with a big bowl of low country boil as the centerpiece. I also had coleslaw (with an oil, vinegar, and sugar dressing and lots of cilantro) and bread. Instead of covering the table with newspaper (which would be the traditional way to serve a boil), I used kraft paper instead. Oh, and can you see the cute, little flipflop straws? Not something I would normally do for a dinner party, but they went with the summer theme and it was casual enough. Between the paper-covered table, disposable plates and cups, and playful straws, this dinner was all about enjoying time with friends and not worrying too much about the clean up!
I wish I had taken some pictures of the dessert, but it was gone too quickly! I made a key lime panna cotta. The best part of that recipe? It's the fact that you have plenty of key lime juice left over from a bag of limes for a batch of margaritas!
Moral of the Supper Club Story
No matter what you decide to do to take a break from the wedding planning, make sure you do something fun! Enjoy some non-wedding focused time with your fiance (and friends)!
Happy Little Wedding Planning Break!