When you can have birthday resolutions instead!
I hope that everyone had a wonderful holiday season! Mine was filled with lots of family gathering time and several weddings, too! Now that things have calmed down a bit, I'm ready to re-focus on blogging here at Love This Little City. I've been keeping a running list of topics that I would love to share with you (and now I have time!).
Oh, and I have another cool thing to share with all of you brides who are still working on your table and linen choices. Back in early December, my sweet boyfriend, Jon, was nice enough to act as the photographer for this epic, 7-hour-long photoshoot that we did showcasing the different table sizes and linen sizes that you have to choose from. It's going to show you exactly what everything would look like with this size table and that size linen. It's going to come in handy, promise. That will be posted soon!
I'm also working with a few wedding vendors in the Greenville area on guest posts where they'll share their knowledge and tell you how to make your big day even better!
And back to the birthday resolutions… I just celebrated by 29th birthday a few days ago, and since it's so close to New Years, I always hold off on the resolutions for a little while since two weeks really don't make that much of a difference. My Birthday Resolution this year is to carve off some more time to continue to build this blog, all while still helping my brides through my day-of wedding coordination services. No biggie, I got this!
Finally, I will leave you with this fabulous (slightly grainy, because The Lazy Goat is too dark for photos) picture from my birthday dinner. Fried goat cheese with honey and pistachio dust is my favorite!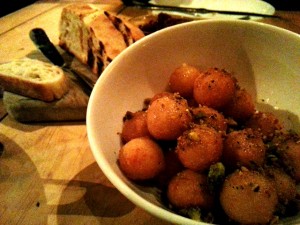 Keeping check back in! Happy Wedding Planning!