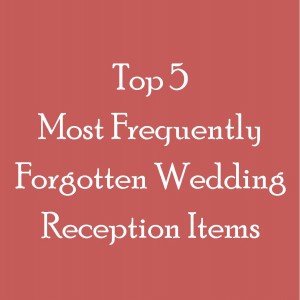 We all know that there are so many things that go into planning and pulling off a wedding reception.
You have your caterer, your florist, your cake, a place for the gifts to go, your seating chart/seating cards/sign letting people know they can sit wherever, a place for the guest book…and many other little things that you didn't realize you were going to have to think about when you starting the whole planning process.
Throughout my time as a day of wedding coordinator, I've started to notice a trend of the top things that are mostly likely to be overlooked when planning a reception.
For the weddings that I help with, I've started mentioning these items specifically in my workbook that all of my brides complete. Also, if the item is small enough, I've just started keeping a back up in my emergency kit that I carry with me to every wedding.
These are all things that you can kind of wing, maybe, but it certainly isn't ideal at all. Don't be the bride that has to pick one of these up at the last minute. Check out the list below, and plan ahead!
Top 5 Most Frequently Forgotten Wedding Reception Items
A Box for the Top and Bottom Layers of Your Cake
This is one of those things that I both mention in my workbook and talk specifically about during both my initial meeting and site survey. Some bakeries are wonderful and automatically send a box for the top layer of your cake. It's not a guarantee though, so you need to ask about it.
Back when I first started coordinating weddings there were a couple of occasions where I ended up at a venue with absolutely nothing to place to the cake in and nothing to wrap it with.
No caterer or restaurant keeps extra cake boxes on hand, and many caterers don't carry any plastic wrap (since they aren't typically taking anything back). So there isn't even something to wrap the cake in.
If the top layer of your cake is important enough for you to hang on to it for a year, it needs to be important enough for you to think about how it's going to make it back to your freezer.
I also suggest that you request a box for the bottom layer of your cake because, unless you have ordered a cake that wouldn't feed all of your guests, I bet there's going to be some left over. That bottom layer is always so large, there really isn't anything that can hold it except for a box that is appropriately sized.
Plan ahead, and your bakery should be able to take care of this for you!
A Cake Knife
Speaking of cake, what do you plan to use to cut it? The picture of you two cutting your cake will probably make it to the top 20ish photos from your wedding day, so make sure you're prepared to make it as attractive as possible.
Working as a day of wedding coordinator in Greenville, SC, I have never had a caterer provide me with picture-ready knife to cut a cake. Even restaurants don't tend to keep a pretty one on hand.
Shop (or borrow) ahead for this one. Hobby Lobby and other stores like that have really inexpensive alternatives. Ask your family if someone has one that you can borrow (probably not an engraved one from their wedding though, unless it's from your parents). Or, hire me, I keep one in my bag. 😉
By the way, I always tell my brides that you only need the knife, not the cake server. You're not going to be cutting a huge piece, and you wouldn't even be able to slide the server in to get that small piece out. Make sure you have the cake knife, and you'll be good to go!
An Attractive Pen for Signing Your Marriage License
This often-forgotten item is also linked to one of the main pictures that will be taken on your wedding day. Your photographer will probably be getting a close up of your hand and the pen used to sign your marriage license. Please don't let it be one that your maid of honor had to grab from someone's purse.
No one will have a pretty pen on hand if you don't plan ahead. I was able to purchase a nice silver pen from Staples for about $10 (so I don't get upset if it goes missing), and I keep it with me for every wedding. Buy or borrow, but make sure it's added to your stash of wedding reception supplies!
The Perfect Pen, or Pens, for Your Guest Book
This may seem like a pretty obvious one, but there are a few things to consider when packing a pen for your guest book. The most important thing to consider is what type of guest book you will have.
Pen for a Traditional Guest Book
For the traditional style guest book, you will want to make sure that you offer your guests a pen that writes easily (from the very beginning). Make sure you start the pen ahead of time, preferably right before you put it out with the guest book (and by you, I mean the person helping you, you should not be worrying about this). In addition, you will need to make sure it isn't one that is going to smear.
Also, unless it is a very fancy pen with a fancy holder where it isn't reasonable to buy two, buy a back up pen. Not that your guests will intentionally take the pen from your guest book, but it may disappear underneath a table or whatnot, and you don't want to have to switch types of pens or ink in the middle of the page.
Pen for a To-Be-Framed Guest Book
Many brides are choosing to do something a bit different from the traditional guest book, and sometimes the guest book they choose is one that will be framed and displayed after the wedding. This could be anything from a signed mat board to be used to frame your wedding picture to one of the many guest book prints sold on Etsy.
If you are going to treat your guest book like a work of art, then you need for your guests to sign it like one. The pens for this type of guest book should be archival quality. You should also test the pen on a sample of the material being used to make sure it looks the way you though it would (doesn't bleed, dries quickly, etc.). Ask your Etsy vendor or other guest book vendor to provide you with a sample of the print material for a test drive.
As with the pen for the traditional guest book, buy back ups! This is definitely a situation where you want to make sure that everyone can find the appropriate pen to use. I would recommend displaying a container with multiple pens so that no one is tempted to use their own.
Pens for Other Non-Traditional Guest Books
In addition to the new trend of framed guest books, brides are also seeking other ways to capture their guests' well wishes. This category is really so broad that it is limited only by a bride's imagination (or Pinterest board). No matter what is chosen, you just have to make sure the pen or marker you provide works.
One thing that I have seen several times lately is a large guest book board. This can be finished or unfinished wood that is typically painted with the bride and groom's names and wedding date. Sharpies really are the best way to go with this type of guest book. The regular tipped ones (Sharpie Fine Point) are ideal as long as your guests have enough room to make their signature large enough to be legible with a thicker marker.
An important point to consider when selecting the appropriate Sharpie for your non-traditional guest book is the style of the tip. Sharpies (which I use an example because it's my go-to for permanent markers) come in Fine Point, Extra Fine Point, and Ultra Fine Point.
Check to make sure the marker you choose will actually write on the material you are providing. I had a sweet bride who wanted her guests to sign wine corks, but the finer-tipped Sharpies weren't writing on them at all. Luckily, I keep a supply of all of them in my emergency kit, and we were able to swap out to a regular Sharpie that worked just fine.
And, as always, make sure you provide several pens or markers so your guests are able to be consistent in their signing no matter what type of guest book you choose!
An Easel for Your Bridal Portrait
Finally, this one is a pretty easy topic to cover. If you are going to have your bridal portrait displayed at your reception, please make sure that you know who will be providing the easel.
Some photographers will take care of this for you. If you have a particular look in mind though, you may need to ask them about the style of their easel.
Every once in a while a venue might have one on hand, but probably not. Ask about this during one of your planning meetings (well in advance of the big day).
If you need to provide your own easel, you certainly don't have to buy one. All of the event rental companies in Greenville, SC will have one available to add on to your rental order.
If you choose to buy one, just make sure you pick one that will hold the portrait high enough to be easily viewed by your guests (I've come across a few that were a bit low). Also, if you happen to have a non-decorative metal or wooden one (from work or a basic craft store), you can also rent an extra linen to drape over the easel to make it fit in with your décor without spending money on a fancy easel.
In Review
I know that was a long post, but I wanted to explain the reasons why these small details can be important when it comes to your wedding reception. As long as you make sure these most frequently forgotten items are taken care of ahead of time, I can guarantee that your day will flow more smoothly!
Happy Wedding Planning!