A few weeks ago I had the pleasure of coordinating weddings for two couples that are dear friends of mine. They were actually Saturday and Sunday weddings on the same weekend at Furman, and the schedule worked out perfectly where I was able to coordinate both. It was a jam-packed few days, but they were full of fun, happiness, and very sweet moments.
For Amanda and Scott's wedding, things started off on Friday evening on the top floor of the Erwin Penland building, where Scott works.They have a big conference room upstairs that was perfect, and we had a very helpful and efficient rehearsal with both their minister and ceremony musician in attendance. Check out her rehearsal bouquet, great idea for a first grade teacher!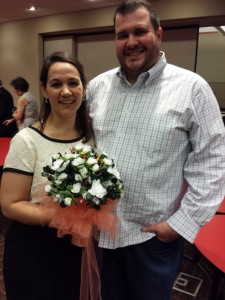 A little side note on this, I've gained a lot of experience rehearsing off site when a ceremony venue is a bit too far away or unavailable for the rehearsal. This is always completely workable as long as everyone pays attention (which is always necessary for any rehearsal!), the ceremony is simple (there isn't a lot of movement up front during the ceremony that needs to be worked out ahead of time), and you're able to get into the ceremony space at some point on the wedding day prior to guests arriving (just to point things out and check spacing, which can be done separately for ladies and gentlemen). Options for locations include the rehearsal dinner location, a hotel conference room, or basically any place that is wide open enough for everyone to move through and practice how they will be positioned at the front of the ceremony.
Back to the weddings! On Saturday, I first stopped by Furman to make sure everything was good to go for the reception. While I was there Kathy Norris, owner of Kathy & Co., arrived to set up the cake. Now, since I had to leave and head up the mountain for the ceremony, I only have a half-decorated cake to show you! Isn't it beautiful already though? After I left, Kathy finished the pipping to hide where the tiers were stacked and added more pink roses and other accent flowers. It was absolutely gorgeous! (PS. That cake included my top favorite wedding cake flavor, Kathy's white chocolate strawberry swirl. Oh my goodness…)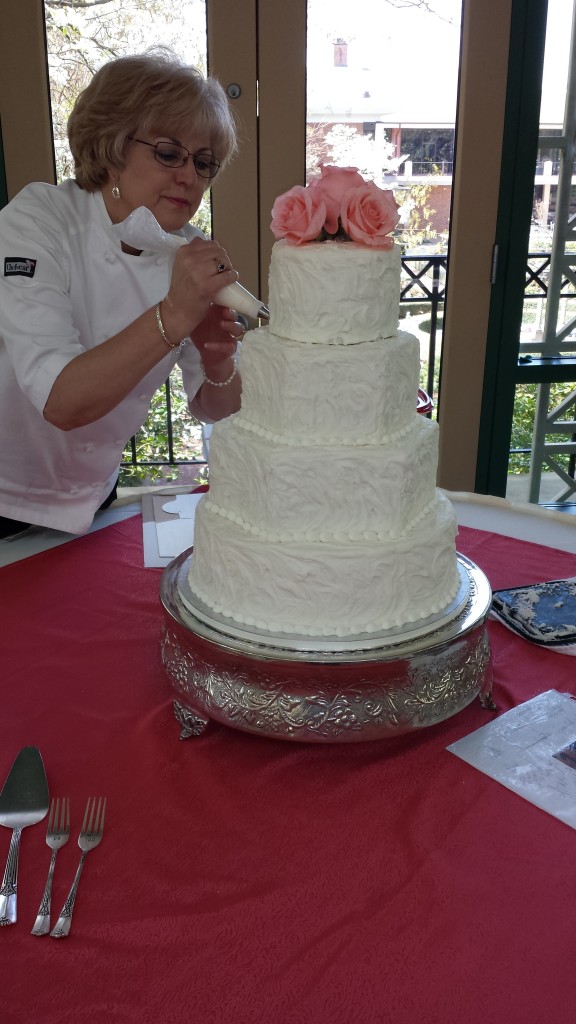 After that I hopped in the car to start the 45 minute commute to Symmes Chapel at YMCA Camp Greenville, also know as Pretty Place. Now, everything became a bit more interesting as soon as I reached the mountain because I realized there was a cycling competition that day and we would need to weave our way, safely and slowly, around quite a few bikes! Luckily, on the timeline we had buffered everyone's arrival schedule, so this didn't change things much at all. The ceremony was beautiful, and so was the view!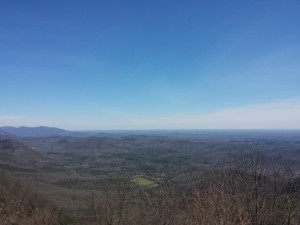 From the ceremony, we headed back to the Hartness Pavilion at Furman, which is a beautiful room with huge windows that overlook the rose garden. Since Pretty Place allows for a 2 hour time block for setup, ceremony, and pictures, Amanda and Scott opted to do their extended family photos at Furman, and that was perfect. I then sent them in to the ceremony where they shared their first dance and cut the cake. After visiting with their family and friends, the bride and groom were sent off with bubbles early in the evening. This allowed them to sneak away with their photographer, and they were able to get some great sunset shots. (The photographer was actually the bride's cousin, Lindsay Hite, a professional photographer from Baltimore.)
Following the early reception, I hopped in the car for the two minute drive to the rehearsal for Sunday's wedding. Once again, we had both the minister and the ceremony musician there, and it was so nice to be able to go over everything from placement of the wedding party, to the ceremony transitions from the minister, to the exact music cues. I have done rehearsals without either of these people present, but the want-to-make-sure-everything's-right part of me loves having them there!
The next morning, I headed back to the Cherrydale Alumni House to oversee the setup for Janell and Derek's wedding. They held the ceremony on the front lawn, and it was absolutely gorgeous. Below is a picture that I took from way back and off to the side, but you can see an incredible professional picture from Todd at Magnolia Studios here.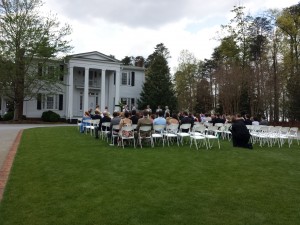 Following the ceremony, the guests were invited to join the reception inside of the house while the family took photos on the front steps. I then directed the guests outside to Founder's Circle for the bride and groom's introduction, first dance, and cupcake cutting. I was hiding off to the side for all of this, of course, but here's a picture of the precious hydrangea-topped treats from Kathy & Co.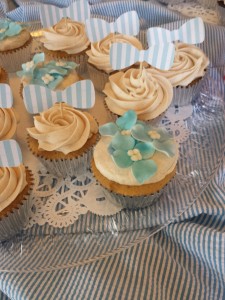 The couple then mingled with their guests until the Father of the Bride gave his toast and everyone came in to sample the groom's cake, which was just right for a Furman grad! Do you see the napkins there? The bride made those for her bowtie-loving groom! (PS. She said the secret is the cute washi tape that holds it all together.) A little while later, the bride and groom enjoyed a send off with sprinkles and an antique car.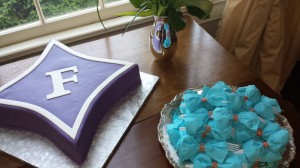 For two weddings that looked entirely different, they sure did have some similarities! Of course, both couples were friends of mine. Both receptions were at Furman, therefore they both used Bell Tower Catering (which was a wonderful experience, great team to work with!). Kathy & Co. provided the cakes and cupcakes for the weekend, which was just a fabulous coincidence. Oh, and both brides are elementary school teachers! (I'm actually pretty sure there were several teachers in Greenville Co. that were getting married that weekend before spring break!) These two weddings went so well, and I was so happy to be a part of the wedding team for both of them. I wish Amanda & Scott and Janell & Derek all the best!
Happy Wedding Days!