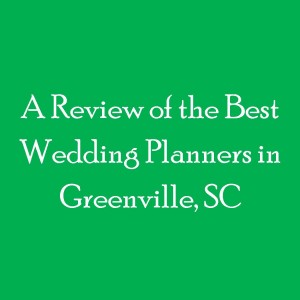 Are you interested in finding a wedding planner to help you take care of planning all of the details for your wedding in Greenville, SC? As a day-of wedding coordinator, I totally understand that some brides desire to have a full-out wedding planner to assist them with their big day. Since I prefer to focus on day-of coordination, I have no problem referring them to the right person.
(Wondering what the difference is between a planner and a day-of coordinator? Check out this post.)
Below is my list for the best wedding planners in Greenville, SC. Please note that this may not be an exhaustive list (there could be someone who is a great planner that I just haven't met yet), but if you were to ask wedding professionals all over Upstate South Carolina what their recommendations would be, I can guarantee that this list would pretty much sum up the results. Here they are, in alphabetical order.
So, who are the Best Wedding Planners in Greenville, SC?
B&R Events
The ladies that make up B&R Events are Samantha Rambo and Debra Benamati. You can always find this mother/daughter duo downtown (at a wedding) and up to something fabulous.
CB Events
Carrie Turner and Brenda Luginbill are a pair of friends that took Greenville by storm several years back. They put together amazing events that will blow you away. Corporate to wedding, they do it all.
Christa Hovis Special Events
Christa Hovis is the lady behind many of the incredible events that take place each year in Greenville. She and her team handle everything from large, corporate events to small, intimate weddings.
Christine Faust Events
Christine Faust is a wonderful lady who pays great attention to detail. If you ask around town for a recommendation for a wedding planner, her name is certain to come up.
Creating Your Moments
Jessica Carpenter is a super sweet lady that will help you through all of your wedding planning tasks. She has experience with venues all over the Upstate.
I Do
Alexandra and the other ladies at I Do offer a variety of services for the bride-to-be. They also come highly recommended.
Southern Panache Events
Brigitte and Kim are a terrific pair of ladies who will take care of all of the details for your wedding day.
Turn Key Special Events
Mary Carpenter is a Greenville event planner with plenty of experience. In addition to handling corporate events, she also plans wonderful weddings.
No matter who you choose, any of these companies will be able to help you with your wedding planning needs. Keep checking back in for wedding planning tips and Greenville wedding vendor recommendations!
Happy Wedding Planning!