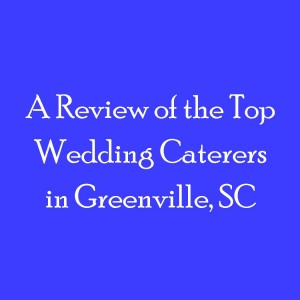 Now that you've picked your wedding date and the perfect venue, what's next on your wedding planning to do list? Well, typically the next thing that my brides tend to focus on is the caterer.
Food is always such an important aspect at celebrations, and your wedding is going to be the biggest celebration you ever plan. So, of course, you're going to be very particular about who you choose!
There are many great companies that provide catering in Greenville, SC, but I've compiled of list of the most popular (and wonderful) wedding caterers that I work with. Here they are, in alphabetical order:
Top Wedding Caterers in Greenville, SC
(you can click on the company names to be taken to their websites)
Chef 360 is a fabulous catering company based out of Greer, SC. It's lead by Chef Peter Collins, who creates incredible displays and offers a wide variety of delicious options for your wedding day menu. I'm always impressed by how much thought he puts into the small details. Working with this team is always a pleasure.
Good Life Catering is a company that I have worked with for years. They are located in the Pendleton Street Art District of downtown Greenville. Shane Clary and his team are great to work with and can help you create your ideal wedding menu (even if you aren't quite sure of what you want, yet). They also always have beautiful displays and are known for their action stations (ask them about the Night in Charleston one!).
Larkin's is a wonderful downtown Greenville restaurant (that I'm sure many of you are familiar with!), and their catering division offers the opportunity to have their incredible food wherever your wedding may be! In addition to handling all of the catering for their venues (The Founders Room & The Cabaret Room above their restaurant, The Wyche Pavilion, and Larkin's Sawmill), they are also available for other locations as well. Jessica Latif and the other members of the Larkin's events team always take such good care of the brides that I work with.
Table 301, the same downtown Greenville company that operates Soby's, Nose Dive, The Lazy Goat (my favorite place in the world…), Passerelle, Soby's on the Side, and Papi's, also has a catering division for outside events. In addition to offering restaurant favorites that they are known for (hello, mini Soby's crab cakes!), they can do specialty items for your wedding day. This team is always professional and provides great service and food. Angela DeGarmo is their contact for wedding catering, and she is wonderful to work with.
Tim Holmes Catering is based out of Spartanburg, SC, but their team can always be found in downtown Greenville making a wedding reception a perfect experience for their client. One big thing Holmes Catering is known are their displays. They offer serving pieces and other display items that no one else in town has. It can really make the buffet and food stations pop! Sarah Kolb and Tim Holmes take great care of their clients.
Now, there are certainly a multitude of good caterers that you can choose from in Greenville, but you can't go wrong with the ones on this list! These companies are always professional, offer delicious food and attractive displays, and they have the capacity to take on multiple weddings (more availability!). Definitely check them out!