So, I have a brand new wedding blog, and I'm already taking a break from talking about wedding planning! But really, it all ties in together. Every once in a while you a need a break and a sweet treat, or you need to make something to take somewhere that looks pretty but it really easy to make. Rustic Pie Twists are the way to go for both!
I've been following Emily over at The Freckled Fox for a while, and when I saw her post this recipe I knew I was going to have to try it. So, tonight after working on some wedding timelines, I took a timeout and made a batch of these sweet little things to send up to Burlington, NC with my family for Thanksgiving (since I'll be staying down in Greenville).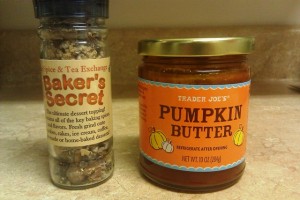 Emily made hers with raspberry preserves and a lemon glaze topping. Since mine needed to be Thanksgiving-inspired (and even faster than this super easy recipe already was), I swapped some things out. Instead, I used Trader Joe's Pumpkin Butter and topped it with a simple sprinkle of Baker's Secret from The Spice & Tea Exchange (they just opened one on Main Street, go check it out).
Another small adjustment that I made was to place mine on parchment paper before baking, that way I didn't have to worry about anything sticking or having to scrub baked-on pumpkin butter off of my cookie sheet.
I just brushed them with butter, as recommended by Emily, and then topped them with the Baker's Secret. They were just right after baking for 12 minutes.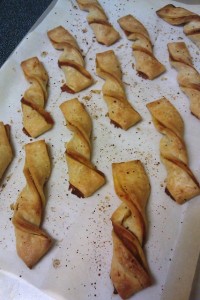 Once they came out, I dusted them with powdered sugar (umm…roughly sprinkled the powered sugar from a spoon because it was late and I was too lazy to dig out my little sugar duster thing). Jon and I tried them right out of the oven. You should probably be a bit more patient, they are definitely 475 degrees.
These little pie twists are so good and so easy to make. I was distracted and doing laundry in between steps and still managed to have everything done and cleaned up in under an hour. If you would like to try these out, head on over and check out the recipe for Rustic Pie Twists.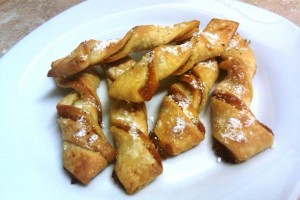 Sometimes one of the best things that you can do when working on planning your wedding is to take a break and step away from all of the details for a bit. Come back with a fresh mind (and your sweet tooth satisfied).
Happy to take a (small) break from wedding activities,